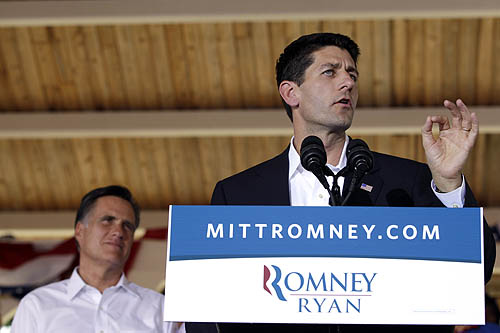 Mary Altaffer/Associated Press
Mitt Romney is due to start his public day tomorrow at a coal mine in Beallsville, Ohio -- about 35 miles southwest of of Wheeling -- as part of a 3-stop Appalachian tour.
Paul Ryan is back home in Wisconsin but here's a roundup of Pennsylvania reaction from the P-G's Len Barcousky, who talks to Tim Murphy, Melissa Hart and others about the conservative Republican's VP credentials.
Statements from others below.
US Rep. Mark Critz, D-Johnstown:
"Congressman Paul Ryan is the architect of a budget that would have disastrous consequences for Pennsylvania's seniors which is strongly supported by Keith Rothfus. The Rothfus/Ryan budget will end Medicare by turning it into a voucher program that will cost seniors $6,400 more per year for their health care – all so millionaires can get more tax cuts.
The difference in this race is that I will fight to protect and strengthen Medicare while Keith Rothfus and Paul Ryan want to end it all so the wealthy can get richer."
PA GOP chair Rob Gleason:
"I congratulate Paul Ryan on being selected to join Mitt Romney on the Republican Presidential ticket. Pennsylvanians will be well served by a Romney-Ryan team in White House that can finally shut the door on President Obama's four years of high unemployment, out-of-control spending, and usher a new era of American prosperity. Pennsylvania will be first in line to send Mitt Romney and Paul Ryan to the White House when we deliver our 20 electoral votes this November.
"Quite simply, President Obama has failed. The unemployment rate has now been above 8 percent for 42 straight months. Friday's jobs report illustrates how Obama has failed to fix the economy and meet his own standards: He promised his massive $831 billion stimulus would create millions of jobs and bring unemployment down to around 5.5 percent by today. Most staggering of all, the real unemployment rate is 15 percent!  That means that 15 percent of Americans either can't find a job, full-time work or have given up even trying to find a job.  That is this President's legacy and the reason Pennsylvanians are going to vote for the Romney-Ryan ticket."
PA18 Democratic candidate Larry Maggi of Washington County:
"If Paul Ryan and Tim Murphy have their way, seniors will pay $6,000 more per year in out-of-pocket Medicare expenses while giving the average millionaire a $394,000 tax break.  Congress is taking the wrong approach.  To create new jobs and get our economy back on track, we need to cut wasteful spending—not on the backs of seniors and the middle-class."
Allegheny County Democratic chair Nancy Mills:
"Mitt Romney's choice of Paul Ryan for VP solidifies the message they have been sending to Allegheny County's working families and seniors; you're on your own."
US Sen. Pat Toomey, R-Allentown:
"I am thrilled that Governor Romney has chosen Paul Ryan as his running mate. In doing so, Gov. Romney has made the clearest, most unequivocal statement he could make that he intends his campaign and his presidency to be about solving America's greatest challenges.

"Congressman Ryan is one of Congress' strongest voices advocating for economic growth through free enterprise and fiscal sense through controlling spending. I'm delighted we have a Romney-Ryan ticket."
Former Gov. Tom Ridge, R-Erie:
"Paul Ryan is an outstanding VP choice. A President Romney and Vice President Ryan will mean that my children and their generation will have a better future with principled leaders who will confront America's challenges with action, integrity and resolve."
Pittsburgh Mayor Luke Ravenstahl, D-North Side:
"While President Obama has worked tirelessly to ensure that all Americans have a fair shot, Mitt Romney's choice of Congressman Paul Ryan farther cements his out-of-touch vision for America. Romney and Ryan would pass a tax cut for the wealthiest Americans that would be paid for by the middle class. Further, Ryan was the chief architect of a budget that would annihilate America's investment in education, Medicare and other programs that help residents of Pittsburgh get a fair shot. Simply put, President Obama will continue to take our country forward while Romney and Ryan would be America's Go Back Team."
Subscribe to this comment's feed