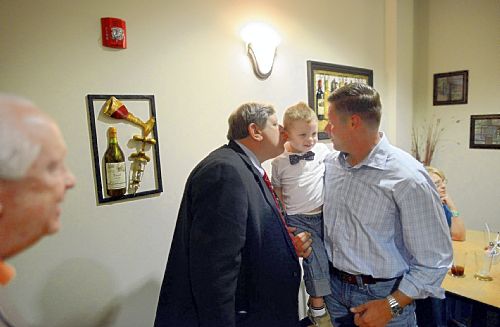 Randy Vulakovich kisses his grandson Tyler Vulakovich, 2, as he is held by Mr. Vulakovich's son Randy Vulakovich Jr., right, after arriving at a campaign party Tuesday at Monte Cello's restaurant in Allison Park. Jim Roddey is at far left. Michael Henninger/Post-Gazette.
Randy Vulakovich's campaign team -- aided in great part by his wife Bonnie and son Randy Jr. -- made 20,000 phone calls to rally Republicans for his 40th District special election race yesterday but he was still nervous. Like the old days in the squad car, he nervously drove around his home municipality, one of the most vote-rich in all of Allegheny County, after 8 p.m. checking the tallies at various polls before finally getting to his election night party around 9. It was clear he was going to win (when Allegheny and Butler county's numbers were crunched it would be a 73-27% win over Democrat Sharon Brown) but he wouldn't admit it while walking around an Italian restaurant at an Allison Park strip mall, greeting supporters.
He explained to a perplexed reporter facing an early 9 p.m. deadline: "I've always had the opinion that nothing is easy, you gotta work for it and you gotta work hard. Certain variables can come in and turn things upside down."
Vulakovich of course cruised to victory and was soon being toasted at the mike by Jim Roddey, state Sen. Kim Ward of Westmoreland (whose son Mike served as campaign manager, with assistance from Mark Harris and Cold Spark Media) and others, including his family. Vulakovich's past victory parties had been held at the family's bungalow-type house in Shaler, his wife told me early in the night, but it was clear by the looks of the 200 or so crushing the pizza at Monte Cello's that should never could have fed them all. Besides the family was due to go on its annual beach vacation today and hadn't started packing.
They didn't need to make room for one small thing in his suitcase.
"I'm glad the race is over. I know when you see the football players after the Super Bowl they say, 'Where are you going?' and they say 'We're going to Disneyworld.' Well tomorrow morning I'm going to Myrtle Beach," Vulakovich said. "You'll be happy to know since I won the Senate race and stepped it up a little bit I'm not going to wear my Speedo," the large man continued to laughs from the crowd. "Canadians do it all the time. . . So I won't embarrass you down [in] Myrtle Beach."
Subscribe to this comment's feed