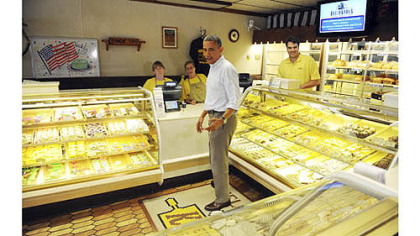 Freelancer Sharon Nass follows up on President Obama's stop at a Beaver bakery last week, in a story for the P-G's suburban section:
Kretchmar's Bakery in Beaver had a sweet surprise Friday when President Barack Obama unexpectedly visited while traveling to Pittsburgh for the final stop of his "Betting On America" bus tour through Ohio and Western Pennsylvania.
The stop was part of a lunch-time tour through Beaver County that included visits with various local businesses.
Bakery owner Lincoln Kretchmar said his reaction to the news that the president would be stopping at his establishment was one of shock and awe.
"A lot of things race through your head, like what do you say to the president of the United States, the most powerful man in the world?" he said.
"You're overwhelmed by different things that start jumping into you head when you get news like that. It was pretty amazing."
Mr. Kretchmar said it was business as usual Friday until Secret Service agents came in about 1 p.m. and informed them that the president would be stopping by. The store was closed and employees were herded into a room while a team of agents swept the building.
About 20 minutes later, Mr. Obama arrived.
It was an experience that Mr. Kretchmar described as surreal.
"Time seemed to slow down and speed up," he said. "It was one of those weird situations. My recollection of time is probably skewed a bit."
Mr. Kretchmar had the opportunity to chat with Mr. Obama and exchange some light-hearted conversation.
At one point, he said, the president commented that Mr. Kretchmar was probably the tallest person in Beaver County. At 6 feet, 4 inches tall, Mr. Kretchmar said that's a pretty safe bet; however, he said, the president doubted that he was 6-foot-4 and told him that he must be at least 6-foot-8.
The president spent about 30 minutes in the bakery visiting with employees before buying an apple pie and a dozen chocolate chip cookies, which he said he was going to share with his press corps.
Dee Meers of Beaver had the pleasure of waiting on Mr. Obama and fulfilling his request for an all-American apple pie. She said it was an amazing experience and one that she never imagined she would have.
"It was great," she said. "At first, it was a little nerve-wracking, but then I thought, he's just a human being like the rest of us."
She described the president as very down-to-earth, very friendly and a good tipper, too.
His purchases totaled $13.20, and he gave Ms. Meers $20 and told her to keep the change. She said the $6.80 tip will be framed alongside his autographed cash register receipt and a picture of her with the president.
Before leaving, Ms. Meers said, Mr. Obama left them with some parting advice.
"He told us we are his boss, so if we want things done, then we have to elect the people that are going to do it," she said. "He was very nice."
President Barack Obama looks over the dessert options while stopping in Beaver during his "Betting on America" bus tour. He purchased pie and cookies Friday at Kretchmar's Bakery on Third Street.
Subscribe to this comment's feed